OSCQR – Standard #43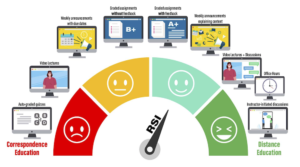 OSCQR – Standard #43
Course provides learners with opportunities in course interactions to share resources and inject knowledge from diverse sources of information with guidance and/or standards from the instructor.
Review These Explanations
Teaching presence is the design, facilitation, and direction of cognitive and social processes for the purpose of realizing personally meaningful and educationally worthwhile learning outcomes (Anderson, Rourke, Garrison, & Archer, 2000).
Inviting learners to reach out beyond a textbook or assigned readings empowers them to understand a wider scope of research and perspectives. When exposed to different information sources, learners have the opportunity to discern the integrity of those sources and (possibly) share those perceptions with each other.
By inviting learners to share resources and add to bring in outside knowledge involves higher order thinking skills, and requires analysis, reflection, and synthesis. Gioia (1987) recommends encouraging learners to become active participants in the classroom by:
Providing recapitulations and summaries;
Make observations that integrate concepts and discussions;
Citing relevant personal examples;
Asking key questions that lead to revealing discussions;
Engaging in devil's advocacy; and
Disagreeing with the instructor in ways that promote further exploration of the issue.
These approaches, although originally posited for the traditional classroom, translate well into the online space.
Gioia (1987) also talks about giving learners time to think. In the online space, this translates into proving ample opportunities for reflection and guidance on how to bring that reflection back into online discussions, learning activities, and assignments.
References:
Garrison, D. R., Anderson, T., & Archer, W. (2000). Critical inquiry in a text-based environment: Computer conferencing in higher education. The Internet and Higher Education, 2(2-3), 87-105.
Gioia, D. A. (1987). Contribution! Not participation in the OB classroom. Journal of Management Education, 11, 15-19.
Regular and Substantive Interaction (RSI)
How This Standard Supports RSI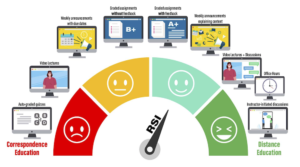 Online courses support regular and substantive interaction by by making it clear how and when they will provide feedback on student contributions in course interactions. Instructors establish this in the design of the course by providing explicit instructions and expectations, rubrics, models/examples, opportunities for peer evaluation and self assessment, and details on how they will provide feedback, and evaluate work. Directing learners to ask questions and interact with the instructor about these activities, to get help or clarifications, such as in an online discussion forum, further supports RSI, and is a good general practice. Scheduling a specific instructor-facilitated discussion on these activities, or to review work, assessment, or feedback demonstrates compliance with RSI.
Refresh Your Course with These Ideas
General Suggestions
Take a "three before me" approach requiring that all learners check at least three outside resources before approaching you to answer a question or posting in the discussion forum (and citing those resources). Resources can include other classmates!
Require that learners cite outside resources to support their discussion forum posts.
Do a "think, pair, share" activity, where learners review a problem on their own, work together to solve a problem, then report their resolution or findings with the rest of the class.
Assign a different learner each module to be the discussion forum scribe, and to write up a synthesized version of the conversation, along with appropriate citations to share back with the class.
Use blogs as a space for learners to share and comment on current events, news, or trends related to course content.
Have learners submit an annotated bibliography as part of a group project, then post them in the course for review.
Examples
Create a collaborative sites where learners can engage by sharing and discussing course-related resources. Available tools include Diigo, Pinterest, Goodreads, and Flipgrid.
Explore More Refreshing Ideas from the Teaching Online Pedagogical Repository (TOPR) at the University of Central Florida (UCF)
These Pedagogical Practices from TOPR explore methods and approaches to providing opportunities for learners to contribute new knowledge and related information from diverse sources in online courses.
Implement Tuning Protocol to Improve Online Discussion Peer Replies and Assignment Quality
Student Generated Blogs for Journals and Reflection
Use Google Educational Apps to Foster Online Collaborations
Use Three-Before-Me as a Communication Strategy
Explore Related Resources
Share What You Know
OSCQR has been developed by a community of online practitioners interested in quality course design. There are numerous opportunities for community members to offer suggestions, donate resources, and help with future development.
Discuss this standard in the comments section at the bottom of this page.
Contribute your own ideas or refresh resources by filling out the OSCQR Examples Contribution Form.